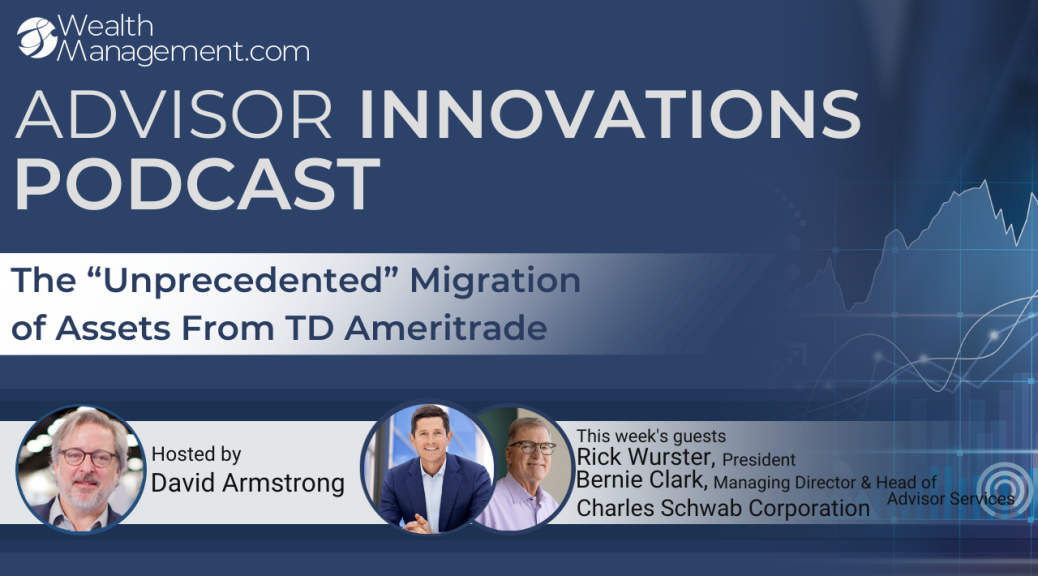 Advisor Innovations: Schwab's Bernie Clark and Rick Wurster on the "Unprecedented" Migration of Assets From TD Ameritrade, and What Advisors Can Expect From the Dominant Custodian Going Forward
After a summer break, the Advisor Innovations podcast is back. In the new season's inaugural episode, David Armstrong, director of editorial strategies at Informa Connect's Wealth Management group, is joined by Rick Wurster, the president of the Charles Schwab Corporation, along with Bernie Clark, managing director and head of advisor services. The conversation was held on the eve of the firm's Impact conference, and weeks after the final Labor Day marker which concluded the conversion of $1.3 trillion in TD Ameritrade assets, including those from some 7,000 advisory firms, into Charles Schwab, making the firm the dominant custodian to independent advisors.  
Rick and Bernie talk about how they viewed the integration as a challenge to bring together the "best of both worlds," including adding the prized trading features of TDAI's trading technology into Schwab's Advisor Services platform, while integrating Schwab's larger breadth of advisor services in banking and support for HNW clients, a growing focus of the firm's advisor support services. 
Specifically, Rick and Bernie discuss:
How the competitive landscape has evolved since Schwab made its announcement four years ago, including the arrival of Goldman Sachs and Envestnet as custodial competitors.

How M&A in the RIA industry may be down, but "joins," or advisors joining an independent advisory firm under different employment models, are on the rise. 

What advisors need to understand about Schwab's cash-sweep accounts.

How more sophisticated banking services, like its recently unveiled digital securities-based lending platform, are helping its advisor clients keep more assets inside the firm. 

What motivated Schwab's significant investment in Dynasty Financial Partners, and how they are open to making more investments in firms or platforms that help grow the RIA channel – including possible opportunities in financing next-generation advisors. 
Resources:
Connect With David Armstrong:
Connect With Rick Wurster & Bernie Clark:
About Our Guests:
Rick Wurster
Rick Wurster was appointed President of The Charles Schwab Corporation in October 2021. In his role, Wurster oversees Investor Services, Advisor Services, Workplace Financial Services, Digital Services, Schwab Asset Management, Third-Party Platforms, and Investor Advice Solutions.  
Wurster joined Schwab in early 2016. He was most recently head of Schwab Asset Management Solutions which provided money management and portfolio advice solutions, wealth management services, financial research, and market insights. He previously served as CEO of Charles Schwab Investment Advisory, Inc. (CSIA), as well as CEO of ThomasPartners, Inc. and Windhaven Investment Management, Inc. prior to their integration into CSIA.
Before joining Schwab, Wurster was employed at Wellington Management and McKinsey & Company where he was a leader of the asset management practice and an Associate Principal.
Bernie Clark
Bernard "Bernie" J. Clark is Managing Director, Head of Advisor Services and a member of Charles Schwab's Executive Committee. He oversees the business that provides custodial, operational, and trading support to nearly 15,000 independent investment advisory firms with $3.67 trillion in assets under management. In addition to custody services, Schwab Advisor Services provides practice management and consultative support to help independent advisors start, build, and grow their firms. A recognized industry leader, Clark has been named as one of the "IA 25" by Investment Advisormagazine, which annually ranks the 25 most influential people in the industry.
Clark has more than 30 years of financial industry experience serving individual and institutional investors. He began his career at Schwab in 1998 as Senior Vice President of Trading and Operations for Schwab Institutional. He later worked on the retail business as leader of the client services organization before returning to the advisor business to lead the sales and relationship management organization. He took on his current role as head of Schwab Advisor Services in 2010.
Prior to joining Schwab, Clark was with the London office of Deutsche Morgan Grenfell. There he held the position of managing director in charge of global sales support, hedge fund operations, and technology, including managing client service support in Asia, Europe, and the U.S. He also spent 13 years with Salomon Brothers as a member of the executive committee responsible for North American operations.
Podcast: Play in new window | Download | Embed