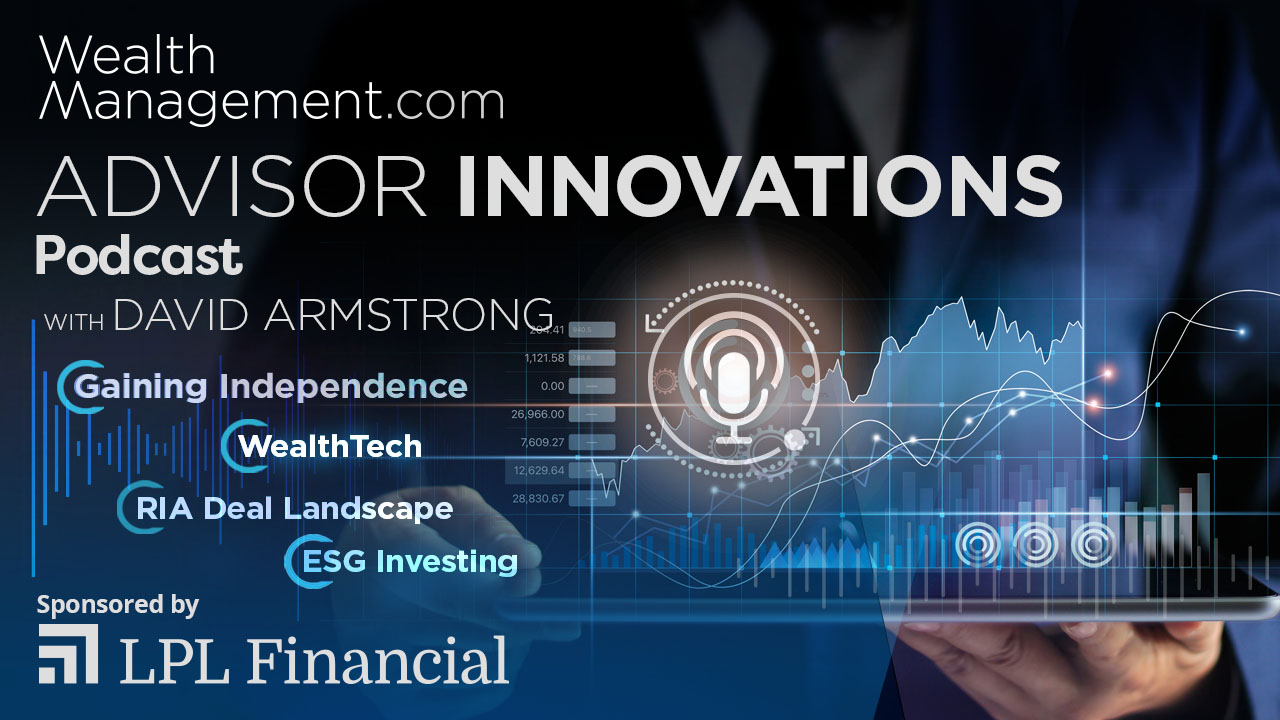 18. Advisor Innovations: Mark Bruno on Billion-Dollar RIA
Ten years ago, the idea of a $1 billion AUM client-facing RIA was hard to fathom. Today, the $100 billion RIA is the new hurdle, and a few have already crossed it.
That speaks to the incredible growth and whirlwind of mergers and acquisitions in the independent advisory channel, and few have watched that transformation as close as Mark Bruno, Managing Director at Informa Wealth Management, the home of Wealthmanagement.com, Inside ETFs and Wealth/Stack.  In this episode, David Armstrong talks to Bruno about the past decade, what's fueling the growth of the most aggressive RIAs in the market and what that means for RIAs who are poised to join in the frenzy. Mark also reveals the evaluation drivers behind determining a businesses value and discusses the question of what the flood of private equity money in the space means for the future of the industry.
David and Mark discuss:
His tenure leading media and industry research efforts at Investment News as associate publisher and at boutique investment bank Echelon Partners

The explosion of mergers and acquisitions over the past decade, and why the velocity of deals is increasing

What growth funding from "outside" investors means for the wealth management space 

What valuation drivers mean the most to acquirers and investors;

The potential timeline of private equity investors and what they bring to the table in terms of professional management and M&A experience;

His plans for RIAEdge, a new initiative to create a business community around professionally managed RIAs with research and small-scale events to examine and understand the valuation drivers and dynamics of the fast-changing industry.  
Connect With David Armstrong:
Connect With Mark Bruno:
About Our Guest:
Mark Bruno is Managing Director, Wealth Management at Informa Connect. In his role, Mr. Bruno focuses on the expansion and enhancement of the organization's Wealth Management media and event properties, which currently consists of WealthManagement.com, Inside ETFs podcast and the WealthStack podcast. He is also charged with driving several innovative new community and advisor-based initiatives.  
In addition, Mr. Bruno is overseeing strategic partnerships and acquisitions to accelerate Informa's growth within the financial advisor and wealth management communities. Mr. Bruno brings over 20 years of experience in the wealth management and asset management industries to Informa, including prominent leadership roles in industry media, research, and consulting organizations. 
Podcast: Play in new window | Download | Embed